Welcome to Canada!
Whether you're on your way, just arrived or been here for a while, we're here to help you achieve financial stability and success in your new home.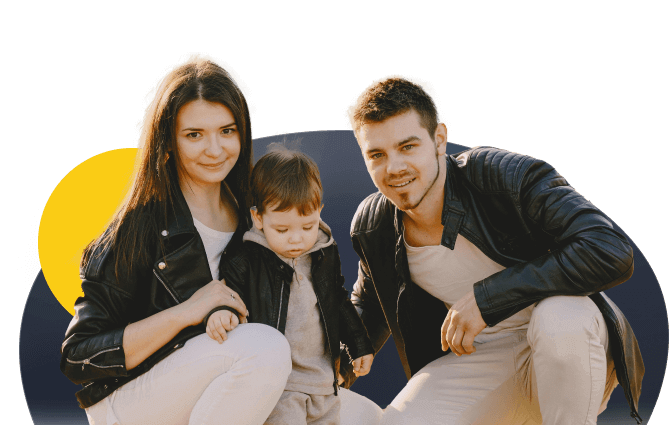 Immigrating to Canada from
South Africa
Are you planning on immigrating to Canada from South Africa? Or have you already landed in Canada and are feeling overwhelmed by the challenges of adjusting to a new country? We understand that immigrating can be daunting, especially when it comes to navigating new cultures, weather, cities, schools, and important details such as insurance, investments, and tax residency.
At Wealthstack, we have first-hand experience with the stress and challenges of immigrating to Canada from South Africa. As fellow South Africans who have made the journey, we want to help make your transition smoother and less stressful. With over 30 years of financial services experience, we can provide guidance and support to help you achieve financial stability and success in your new home.
Here's how we can help you
Create a Wealthstack Dashboard to assess your current financial standing, including all your assets in South Africa and Canada. This will help you understand your strengths and gaps. It is the best place to start.
Create Dashboard
Book a call with a Wealthstack Expert to get personalized guidance for you and your family on how to build your financial wellness as a newcomer to Canada as a South African immigrant.
Book a Call
Download our free Guides for those immigrating to Canada from South Africa. These guides are curated by South Africans, for South Africans, and contain valuable knowledge, tips, and tricks to help kickstart your journey.
View Guides
Download your Free Guides Today
We've created two free downloadable PDF guides to help you as you figure out the financial complexities of immigrating to Canada from South Africa. Download them today and start building your new life in Canada with confidence.
First things first - Moving to Canada
Download
Financial FAQs for South Africans Immigrating to Canada
Download
Testimonials
South Africans we've helped along the way.
Vincent and his team provided valuable guidance for our journey to Canada. They helped us set goals for home ownership and retirement, and offered insights on the Canadian market. They also provided suitable products within my work's restrictions. Overall, a very pleasant experience with the team and will recommend them to anyone.
Mr J Malan
Business owner in Canada and SA
Vincent has been great at helping us think through and maintain our wealth plans. I would certainly recommend Vincent and Wealthstack to friends and family and, have in fact done so in the past.
Dr M Duvenhage and Mr B Duvenhage
Medical doctor and Software Engineer
Vincent Heys was invaluable during my immigration to Canada from South Africa. His thorough planning, impressive knowledge of the Canadian system, and commitment to a holistic approach were exceptional. He provided me with a wealth of information, helped me make informed decisions, and ensured a smooth and successful transition. I highly recommend Vincent to anyone making the move to Canada.
Mr and Mrs De Villiers
Financial services professionals
Vincent was a great help when we started the process to move from Johannesburg to Toronto. He quickly helped me identify the key tax and retirement income decisions I needed to make and how to plan appropriately before moving to Canada. Armed with this advice I could plan and make the required decisions before making the move, which helped remove a lot of pressure from the process. We are grateful for Vincent's help, I'd highly recommend him and his team.
K Meissner-Roloff
Actuary
Immigrating to Canada was an emotional journey, and I didn't want to add to the stress by making wrong decisions with my finances. In our mid-forties, my spouse and I needed guidance for retirement planning. We are forever grateful that we found Vincent Heys to be our financial planner. He helped us with the transition into Canada, provided holistic planning for our investment, insurance, and legacy goals, and took into account our cross-border accounts. Vincent is a true professional, knowledgeable about all the regulations in Canada, and honest. Knowing that he is in charge of our financial planning gives us the greatest peace of mind.
Dr Albert Verbeek
Oncologist
Let us be your guidepost as you navigate the journey of immigrating to Canada from South Africa.
Book a call