How to Craft Your Financial Plan for Every Life Stage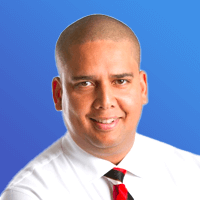 Duane Littler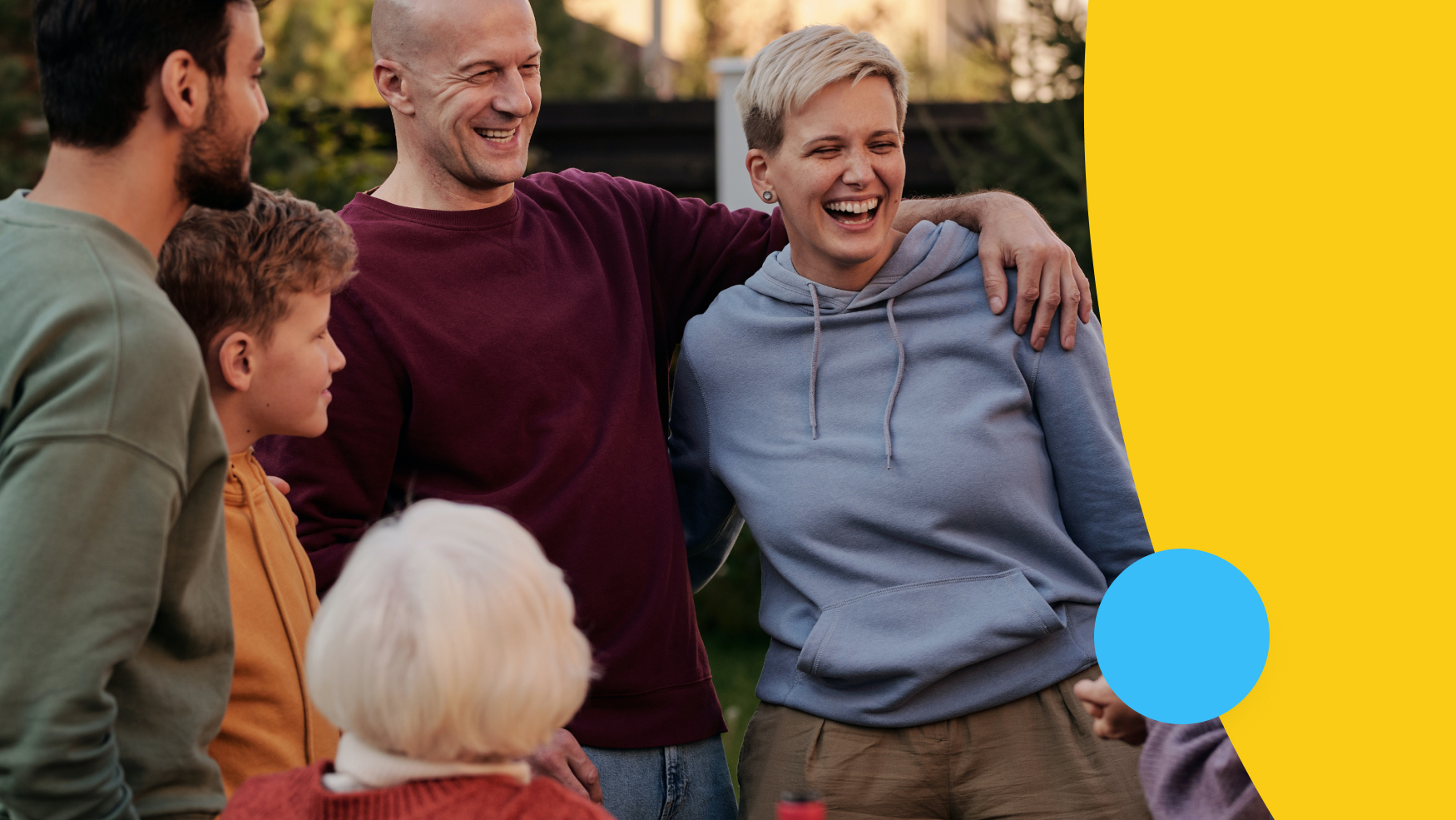 In chatting to fellow soccer parents over the summer (can you guess my life stage!?), I realized that many of us spend so much time planning our vacations. Many hours are dedicated to researching and reviewing tourist attractions, restaurants, family friendly spots and so much more. This is a big investment of time and effort for a week or two!
Do you find yourself spending more time planning vacations than your finances? You're not alone. Many of us feel overwhelmed when it comes to managing money and planning for the future. But think about it – if we can make time for a weeklong getaway, why not invest some time in securing your financial wellness?
Money matters touch every part of our lives. Whether you're just beginning your career, raising a family, or nearing retirement, it's crucial to manage financial risks and plan ahead. Life is full of surprises. Financial planning helps you be ready for unexpected events. It also eases stress for your loved ones and lets you reach your dreams.
Life Stage Struggles
Understanding some of the challenges that Canadians face at different life stages can shed light on why financial planning might seem daunting:
Young Adult Struggles:
Millennials have more on their plates than just daily expenses. They're grappling with soaring housing costs and student loans, often relying on family support to make ends meet. Did you know that student debt is even delaying significant life milestones like moving out or buying a house? It's time to address these challenges head-on.
Sandwich Generation Woes:
Are you a part of the Sandwich Generation, supporting both kids and aging parents? You're not alone. Many are finding it tough to balance their own financial goals while providing for loved ones. This financial juggling act can be stressful and put your own dreams on hold.
Retirement Concerns:
Dreaming of a worry-free retirement? It's a common aspiration. But the reality is, a significant number of Canadians fear running out of money before they pass away. Long-term care costs also pose a concern. Add worries about debt, retirement savings, and home selling to the mix, and it's a challenging scenario.
Life Stage Needs
Think of life like a journey shown on a life-stage graph below. It starts with less money needed and grows over time. Buying a home, having kids, retiring, and leaving a legacy all change how much money you need.
Along your financial journey, there are important moments to pause and review your current financial plans for their effectiveness and relevance. This is best explained using the 3 concepts of:
Term Insurance
Investments
Whole Life Insurance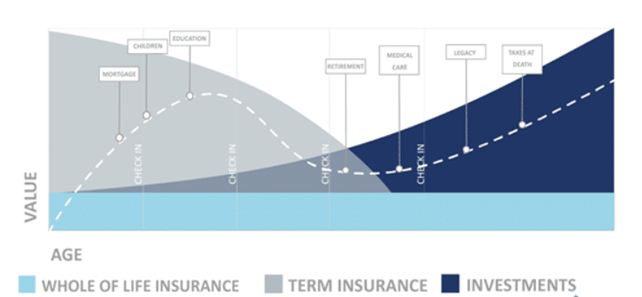 1. The need for Term Insurance:
Picture the grey area on the graph. This part gets smaller over time. Usually as you get older, your money troubles become less, and you save more. This means you need less term insurance. Term insurance helps when you have responsibilities and debts. But once you get close to retiring, ideally your savings and plans for retirement take over.
2. The need for Investments:
Now, look at the dark blue part on the graph. This part helps you later in life, but you need to start as soon as possible to provide it with time to grow and accumulate. Term insurance is for today's needs, but investments are for the future. They help you when you retire and even leave something behind for your family. You need to balance insurance for now and saving for later.
3. The need for Whole Life Insurance:
Whole Life insurance is represented by the light blue area. At first, you might not think it's important. But when you get older, it becomes really useful. When you and your spouse pass away, your estate can go to your children, the CRA, or charities. With the right plan, you can give more to your family and charities you care about. In Canada, using a well-structured whole life insurance contract can help you do this while minimising your tax.
Life Stage Check Ins
In addition to understanding how these 3 concepts fit into your financial journey, it is equally important to take time to look at your financial situation at certain check-in points along the way. These check-ins help you plan for different parts of your life and make sure your money is working for you. Below are a few major check-ins and what typically you should be considering at each point:
1. Starting Work
Obtain insurance in case something happens to you.
Review your company's group benefits plan and consider any additional cover you need.
Start saving for when you retire.
Plan for buying a home by starting to build your home deposit goal.
2. After Buying a Home
Make sure your insurance covers your mortgage if something happens.
Think about how much money your spouse would need if you're not there.
Make sure your money is invested appropriately with the correct asset allocation.
3. Before Having Kids
Check if your insurance covers your existing liabilities.
Learn about managing money as a family.
Plan for the money you'll need for your family's lifestyle and goals.
4. Kids Leaving Home
Think about what you'll need when you retire (maybe in 15 to 20 years).
Adjust how you invest your money and plan for taxes.
Make sure you're ready for any health problems.
5. Close to Retirement
Remember, these check-ins help you make the most of your money at every stage of life.
Life Stage Guidance
The path ahead might seem daunting, but here's the good news – you don't have to face these challenges alone. Wealthstack is here to make money matter simple again, and guide you toward a secure financial future. Our experts understand that everyone's situation is unique. We provide personalized guidance to help you make the right choices for your journey to financial wellness. You can have a quick chat with one of our Experts to get you going. Book today!